The winner of the 3-pack patterns from Sew Sweet Patterns is Michele S. I will be emailing you shortly. Today is our last guest for stash-busting. (Make sure you come back next week because I'll have a little more and another giveaway!)
Hi everyone! I'm Sarah from the Blog over at Sewing Parts Online and I'm so thrilled to share a little project for the Stash-Busting Series. I love making cute skirts to hide my rather ugly indoor flower pots. It's fast and easy and a great way to test out print and color combinations. All you need is a measuring tape, some elastic, and your fabric.
Measure the circumference and height of your flower pot. You can mix and match as many fabric strips you'd like, you just want to make sure they are at least 2.5 times wider than the circumference of your flower pot.
Once you have decided on your pattern, start sewing the strips right sides together. The most important step is making sure you've created a casing for the elastic. I did this by folding the grey fabric is half (hotdog style), then sewing it as a normal strip.
I'm a sucker for ruffles. You can make your own ruffled trim by manually pleating or using a ruffler foot. I opted for the later simply because it's faster and the results are more accurate than my hand pleating.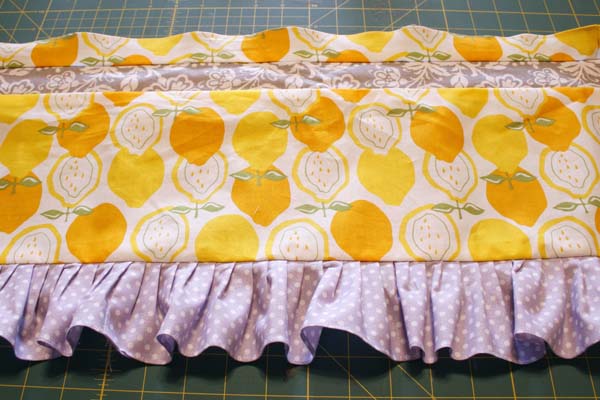 I find it easiest to hem my edges before adding the elastic. A rolled hem, either on by sewing machine or serger looks great. Once the hemming is finished, slip the safety pin through the casing (in my case, the grey fabric) to create the elastic band.
Sew the elastic ends down and sew the two skirt edges together. All that's left is to slip it on your flower pot! You can also make a skirt for outside pots, but the outdoor fabric tends to be so heavy it pulls the skirt down. Simply slap on some sticky back Velcro and your flower pot skirt will stay in place. This project is so easy, you can make a new skirt for each holiday and season. I've already planning my new Christmas skirt. I hope you enjoyed and thank you for reading!Thanks for sharing Sarah! I'm sure I have extra scraps that could be used to beautify my home!