I absolutely love the ruffled shower curtains at Anthropologie.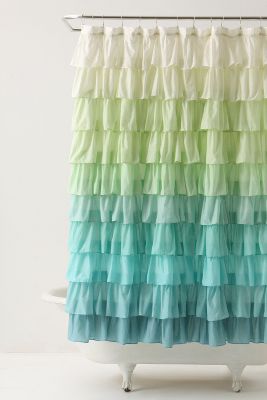 Since I do not have $100 to spend on a shower curtain, I decided that I would make my own ruffled shower curtain. After getting partway through it, I realized that doing that many ruffles takes FOREVER! Even when I did the last section and used a ruffle foot (the best invention ever. When I get my own sewing machine, I'm going to get a ruffle foot. They are incredible!) Here's the collage of the finished product:
with pictures kindly taken by my wonderful sister-in-law in her bathroom. Luckily, the colors matched nicely!